Introduction
It will probably not be the last chapter in this sad and inglorious history of Wirecard (OTCPK:WCAGY, OTCPK:WRCDF). At the moment, I am writing this article, Wirecard has filed for insolvency. Just to anticipate one thing, I also hold shares in the company, as I have documented transparently here at Seeking Alpha. Hence, I think that it is time for an obituary and time for investors to reflect.
What's left for investors now?
I share not only my successes but also my failures. And so far, Wirecard was the biggest mistake of my "career" as a private investor.

(Source: My worst bullish rating ever)
With such price losses, I can book a complete loss of my investment here. The insolvency doesn't change much in this respect. I do not expect the company to survive this. While I have never had problems understanding the business model of Wirecard, we have to assume that the business model, as promising as it sounds, did not exist to the extent documented by the company.
Although in the current insolvency proceedings, the business (as far as it exists) will be continued, this will hardly help the company and its investors. Most customers (if they exist) will terminate their contracts with Wirecard and switch to other providers such as Adyen (OTCPK:ADYYF) (OTCPK:ADYEY) (AMS: ADYEN).
Since Wirecard only charged low fees of approx. 1 to 1.7 percent per transaction, the company needs a high transaction volume to operate profitably. Even if we look at the withdrawn balance sheets, the gross margin was always meager.

(Source: Wirecard always had a low gross margin)
Visa (NYSE:V) and Mastercard (NYSE:MA) would not even have to cut their ties with Wirecard, because apparently Wirecard was never really profitable. Even with Visa and Wirecard, the loss of reputation as a result of the scandal will very likely ensure that Wirecard will not be able to keep its feet on the ground.
The best thing that could happen to investors would be a takeover. The market capitalization is less than half a billion.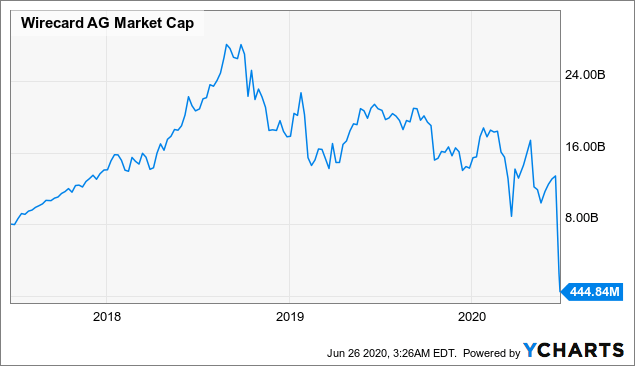 But who should invest in Wirecard now, even if the company is cheap? There is a reason why not even the concrete rumor of a takeover has come up. The company is currently a black box that nobody can read. Wirecard is also likely to lose most of its banking licenses. The company is, therefore, degenerating into a game of gambling, in which I advise every investor not to bet.
Some say it was greed by investors and negligence by authorities
Some…